ROCKETSHIP WELLNESS TREATMENT SERIES 240
ROCKETSHIP WELLNESS™ TREATMENT SERIES 240
Securing a series represents your dedication and commitment to improving yourself. The treatment series 240 (240 minutes to use towards treatments) will also save you money if you plan to visit the office again, and give you the ultimate flexibility in your treatment plan. Also, this series can be shared between family and friends. The treatment series can also be purchased as a gift for a loved one in need. Regardless of what option, you will have Rocketship Wellness education interjected into your series.
As a series member, you will have the option to add a 30 minute of rest time in the EmbodiChair™ after any of your treatments. In order to take advantage of this special, make sure when you schedule your appointment, to add an additional 30 minutes to your treatment. For example, if you plan to come in for a 60 minute visit, schedule for 90 minutes; If you plan to come in for a 45 minute treatment, schedule for 75 minutes, etc.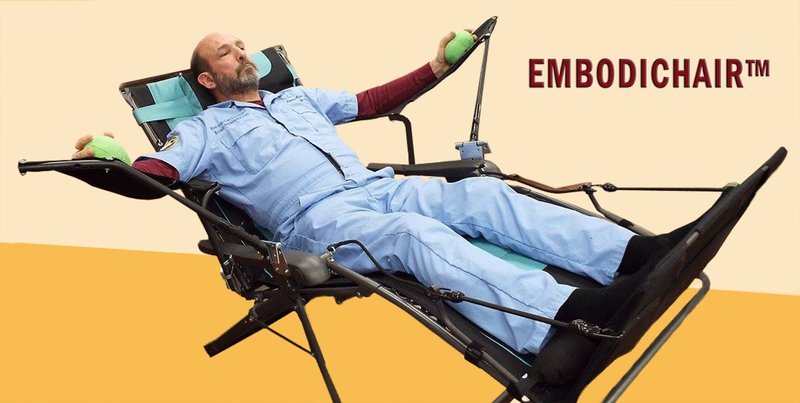 Here is the EmbodiChair™ and it's only available to series holders at no additional cost. This is the ultimate way to end one of Dr. Allan's treatments. The EmbodiChair™ enhances your treatment experience, helps your healing, helps you reduce stress, and helps you improve your posture. It's the ultimate healing experience, and I highly recommend that you take full advantage of this bonus treatment when you purchase the series.
OPTIONS:

1) 60-MINUTE TREATMENTS

Quite often, the 60-minute treatment is the perfect amount of time for follow up treatments after your initial visit. If this is your first series, this usually will be your best choice. Initially Dr. Allan needs more time to introduce his educational lessons that will be custom tailored to your needs. Quite often he will spend extra time teaching you his posture method. Topics may include, but not limited to strategies for: Sitting, standing, working, walking, lifting, getting out of a chair, sitting at a desk, ideal resting and sleeping positions, and more. Whatever it is you do, we will take a closer look, and give you solutions to minimize effort and maximize your power.
2) 30 or 45-MINUTE TREATMENTS

These treatments will be best if you are feeling better, and past the educational phase of care at the office. These are fantastic for maintenance care, and can help stretch out a series program.
3) 90-MINUTE TREATMENTS
For some, 90 minutes will give you more time if you really need or want it. If there are multiple problems, this could be a good choice and this should be discussed with Dr. Allan. In some cases, the added time could be used to discuss the nutritional services at the office.
In some cases, individuals just may want more pampering, or want to add additional services like foot reflexology, etc. This can be discussed how you best can be supported at the office after your initial visit with Dr. Allan. Whatever treatment options you choose, maintaining a 240 series provides the ultimate in health and wellness.